In almost all offices and places of business, carpets and upholstery are the most common parts of the furniture you will see. Cleaning this is a major hassle if it faces a lot of footfalls and there are chances for dust and other tiny particles get accumulated in this area. This makes cleaning more difficult. Lack of proper cleaning can cause allergic reactions to peoples. In order to avoid this condition, extra care should be given. Here we are going to describe some super cool machines that can assist you in cleaning.
 1. HD 18 Upright vacuum cleaner -Technica
HD 18 Upright vacuum cleaner is an Italian made high-end carpet cleaner. They are very much suitable for deep cleaning along skirting boards The nozzle and flexible hose of HD 18 Upright vacuum cleaner help you to clean high and difficult areas. Its ability to the handgrip completely resting on the floor makes deep clean easier. The other attractive feature of HD 18 Upright vacuum cleaner is its traction motor is electronically protected against overload. The led system helps you to ensure that the settings are correct.
 2. Elite silent – SANTOEMMA
Elite-Silent is an independent extractor for carpet and hard floor with manual footing. It washes, brushes and dries a stripe of 50 cm of carpet, pushing ahead, tidying up to 500 sq. meters in a single hour. Its 3 arrange high-water lift vacuum framework permits to recoup the most extreme amount of soil from carpet and to get the briefest drying time. Elite-Silent is an extremely quiet machine since it works with 60 Decibels as it were. Another advantage of this machine is the ability to adjust the brush and vacuum head pressure, according to the type of carpet. The water flow can be regulated, for a maintenance low-moisture cleaning or a restoration deep-cleaning. These machines are quite suitable to all places with large or middle-sized surfaces of carpet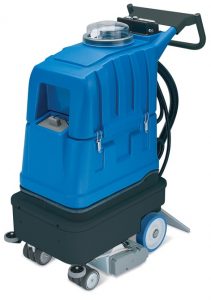 3. Battery operated Carpet sweeper – LAVORPro
The new cordless power sweeper by LAVOR offers you a similar status and handiness of a floor brush, yet you won't twist down or battle to get the dirt any longer. Its powerful Lithium-Ion battery with 10.8 V and 1.5 Ah allows an operation time of approx. 45 minutes per battery. Its second battery can be directly stored and carried on the machine itself. Therefore these two batteries together give a working of 90 minutes which is quite long when compared with other machines. Broom used in this system is ergonomic which allow you to use this machine as a perfect vacuum cleaner. Since it produces low voice they are very much suitable for office uses.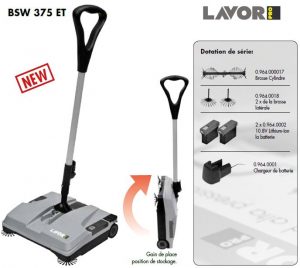 To know more about our products contact [email protected]Eurotek
Cleaning equipment can reduce your hardship in cleaning. But you should give extra care while selecting the cleaning equipment. The below checklist contains some tips that will help you to select proper cleaning equipment that meets your requirements.
At first, you have to list out your cleaning needs like space available, type of cleaning required, time suitable for cleaning, number of cleaning staff you can afford etc. After making a list you can contact an available cleaning equipment manufacturer. The things you have to consider while approaching a manufacturer is listed out below.
Certifications
You should approach a manufacturer having following certifications. Cleaning Industry Management Standard (CIVlS), Occupational Safety and Health Administration (OSHA) compliant, ClMS Green Building.
Experience
Ask the company about their experience in the cleaning field. You can even check the credibility of the company by contacting their other clients.
Products
Check about their products and usage. It will help you to decide whether this company meets your requirements. Don't forget to read about the review of their products. This will help you to analyze the quality of the product.
Technical Support
This is important. You have to ensure that the company can give technical support at any time. Along with that check availability of programs to train your staff regarding usage of new equipment's.
Warranty/Insurance
You have to choose products that have at least 1-year warranty. This will helps you to buy products with a long life
Are you still confused with selecting a product from manufacture? Well in the below list we had listed some important things to consider while selecting an equipment.
Productivity                                                                                                                              Suitability
Work performance                                                                                                                   Versatility
Ease of handling.                                                                                                                     Portability
Appearance                                                                                                                             Noise level
After Sales Service                                                                                                                  Protective design
Refill Procedure                                                                                                                       Ease of storage
Regular Maintenance and care Safety                                                                                    Cost
Availability of spare parts                                                                                                        Training
For more details talk to our expert today at www.eurotek-me.com
Keeping furniture clean not only makes the piece more attractive, but lengthens its life span immensely. Here are some tips to clean upholstery.
Vacuum
Upholstery should be vacuumed frequently to keep the fabric in good shape and prevent dust and crumbs from settling into the body of the furniture. In the case of an old stain, it's surprising how much a simple vacuuming can help to fade the stain.
Check for Cleaning Instructions
Check your furniture for its cleaning codes. This gets you on the right track of how to best tackle your stain. Some pieces can be cleaned with water; others will require moving directly into various solvents.
Try Some Steam
If your furniture can be cleaned with water, hitting the stain with a bit of steam loosens it up and makes the stain more responsive to treatment.
Dampen stains with a sponge 
Use a sponge to rub your mixture into the furniture, and pat the upholstery dry with a cloth as you work. Allow the detergent to sit and penetrate for several minutes on any stains or tough spots.
Blot future spills quickly
The best way to avoid extensive cleaning sessions in the future is to act quickly when spills occur, treating them before they stain too severely. Always blot liquids, as opposed to scrubbing or rubbing.
Tips for Upholstery Cleaning
1. Use cool water when cleaning non-greasy stains and use warm water when cleaning greasy stains.
2. Do not use too much water when cleaning your furniture because it may cause water stains or mildew under certain conditions. This can make things worse so avoid using excessive water.
3. To speed up the drying process, use a fan. This is a simple trick that can help dry your furniture at the quickest time possible. You can also let your furniture dry outside the house but be sure to put your attention to it.
4. To protect your furniture, you can use slipcover whenever you are away for a week.
For more details talk to our expert today at www.eurotek-me.com
Keeping your kitchen tidy and clean can be a constant challenge! A clean kitchen reduces the number of pathogens and other illness causing agents to infect the food. Keep your homes and catering establishment looks clean with our range of cleaning products. Let's have a quick look;
1. Dual speed single disc machine FLOORIDER – TS17
FLOORIDER – TS17 is a Model with working width of 430 mm and double speed, equipped with pad holder, suited for many cleaning tasks from cleaning of very dirty floors up to the maintenance cleaning of floors treated with metallic waxes. A single machine and a simple switch replace 2 separate units, with evident advantages in terms of practicality and economic convenience.
Features
1.Very strong induction motor for long lifetime and great performances.
2.Double protection against unintentional start.
3.Satellite and planetary gearbox for high power transmission, long lifetime and low noise
level.
4.Coupling for both pad holder and brush.
5.Handle of last generation, result of a perfect synthesis among great sturdiness,
ergonomics, safety and innovative design.
2. Nat GLASS – Rinse free multi surface cleaner
Nat GLASS – Rinse free multi surface cleaner is an important factor for your kitchen. It removes all streaks and marks and degreases effectively.
3. Mississippi 1310 XP – LavorPRO
The Lavor Pro Mississippi 1310 XP heavy-duty hot water pressure washer is fitted with a single-phase motor. "LAVOR PRO" series products are professional pressure washers for very demanding users, suitable for intensive, continuous applications. It is perfect for a wide variety of tasks.
In order to achieve a longer pressure washer lifespan and lower consumption, the machine stops automatically when releasing the spray gun. The controls are simple and user-friendly and they  allow for fast machine operation. It have heavy-duty ergonomic handle.
A clean kitchen is inviting. Having a well-kept kitchen also reduces the number of accidents. For more details about our products, talk to our professionals at www.eurotek-me.com
With the continuation of the previous blog, now let's see the remaining restaurant cleaning machines of Eurotek.
Speed 45b – lavor pro
The Speed series scrubber driers are compact and maneuverable with high performance cleaning to help clean easily. Exclusive squeegee system assures high performance at low cost, the unique design helps achieve excellent drying results even on difficult surfaces. It is designed for quick cleaning of premises of small and medium area and ideal for deep cleaning and washing floors in stores and warehouses, shopping centers, gyms, schools and public buildings, art galleries and concert halls, office buildings, industrial buildings, service stations.
Compact low speed single disc machine Floorider – L190
A compact model for applications requiring a superior professional equipment, being at the same time light and easy to handle. Suitable for almost all cleaning duties: deep cleaning, stripping, spray cleaning, polishing and shampooing. It has very strong induction motor, for long lifetime and great performances.
Quick 36E – compact electric scrubber drier
QUICK 36E, the most compact auto scrubber drier in the market. With a special close hugging squeegee that moves along with the brush saving on the space required for quick to work its magic. A fully reclining handle lets you manouevre tight corners and a low machine width and height gives you access to office furniture as the machine easily goes under the desk, work bench and even in small office cubicles giving you a 360° spin with ease.
FEATURES
Adjustable flow (automatic start-stop with solenoid valve) of the detergent solution depending on type of surface.
Brush with quick release.
Removable recovery tank.
Available in battery version (36B) with integrated battery charger with data memory and for any type of batteries.
.Easy access and simple service of the components.
User friendly control panel.
Control lever for brush operation and detergent water outflow.
One of the most crucial factors to the success of any restaurant is its cleanliness. Our restaurant cleaning products offers you everything that your restaurant needs for a clean, healthy, and attractive restaurant. For more details about restaurant cleaning machines, talk to our professionals at www.eurotek-me.com .
Eurotek offers a complete selection of Restaurant Cleaning machines designed specifically for the needs of any Restaurant. Let's have a quick look
Quick 36E – LAVOR Pro
A width of just 460mm makes Quick36E, the most compact auto scrubber drier in the market. With a special close hugging squeegee that moves along with the brush saving on the space required for Quick to work its magic. Quick 36E – LAVOR Pro is also suitable to work in congested areas like small shops, offices, kitchens, schools, hospitals, bars, gyms.
A fully reclining handle lets you manouevre tight corners and a low machine width and height gives you access to office furniture as the machine easily goes under the desk, work bench and even in small office cubicles giving you a 360° spin with ease.
Comfort XXS 66 – LAVOR Pro
               The Comfort XXS 66 is designed for the maintenance and deep cleaning of large areas with a very important reduction of cleaning cost. The Comfort XXS 66 is easy to handle, powerful, efficient, carefully conceived and designed by using top quality materials.It has User friendly control panel.
Independently driven double disc brush gives extended mechanical action of the bristles on the floor for persistent dirt. The counter rotating brush gives a better overall cleaning result. The special setting of the brush plate allows a balanced gripping effect, assisting easy use. The comfortable and ergonomic seat allows the operator to work effortless for a long time, improving productivity.
Foamtec 15 – Restroom cleaning machine
Foamtec system was developed and patented by Santoemma as a revolutionary system to clean and sanitize public restrooms, by foaming, rinsing all surfaces and vacuuming, using a single machine. Foam ensures an extended chemical action on the dirt and bacteria and is therefore ideal for many places which need a heavy duty action.
The cleaning and sanitizing process is carried out through four stages:-
1.Foam spraying on all the surfaces (walls, sanitary fixtures, showers, panes)
2. Foam chemical action against dirt and bacteria.
3. Rinsing with fresh water, to remove foam residual from the surfaces
4. Vacuuming of residual liquid from floor.
Advantages of Foamtec system:-
Better cleaning and sanitizing result
The greatest hygienic safety for the worker
Reduced labor for the worker
Saving of time
Reduced power and water consumption
To be Continued………………
Have you ever wanted a quick way to create your own office cleaning checklist?It's not easy keeping an office spotless. If you are organized on the task of cleaning your office space then create a well-structured office cleaning schedule. This will make a huge difference in your office on a daily basis. Ready to get cleaning? Let's have a quick look and schedule the tasks.
Daily office cleaning tasks
The daily tasks below will help you to keep your office looking tidy and presentable on a daily basis:
Keep all the desks clutter-free.
Clean and disinfect empty waste & recycling bins.
Emptying waste & recycling bins, cleaning and disinfecting where necessary.
Use a damp cloth to wipe the dust from computer monitors and other surfaces.
If you have any hard flooring areas, make sure they are mopped.
Clean and disinfect the office bathroom facilities.
Any food preparation and eating areas should be cleaned at all times.
All floors and carpets should look dirt-free.
Wiping & cleaning any areas used for eating.
Hovering the entire floor space.
Wiping down door handles & light switches.
Weekly office cleaning tasks
There cleaning tasks requires a more time than your daily cleaning routine. They will ensure that all areas, not just the areas which are cleaned on a daily basis. Weekly tasks include:
Polishing glass, mirrors & metallic surfaces
Any painted surfaces which require cleaning should also be cleaned
Deep cleaning of the bathroom facilities and refilling the soap dispensers
Window cleaning (where possible)
Cleaning the communal fridge
Cleaning communal kitchen appliances
Monthly office cleaning tasks
These cleaning tasks are "little tasks" but can make huge difference in your office environment
Dusting the office, including any areas which are not cleaned on a daily basis
Vacuum cleaning any chairs
Polishing and maintaining wooden floors and furniture
Deep cleaning carpets with a steam cleaner when required
Polishing & maintaining hard floors when required
Keeping the office clean and tidy at all times. For more details, talk to our professionals at www.eurotek-me.com.
Hygiene is one of the most important aspects when it comes to leading a healthy life.When you own and operate a business, industrial cleaning should be a part of your cleaning routine. When it is a public place with lot of foot traffic, industrial cleaning equipment will be important if that place is to be kept clean and in healthy conditions for those that use them.
Let's see the importance of using the industrial equipment:
Prevent infections.
Dirty environments can harbor nasty bacteria which can lead to illness, so it is essential that cleanliness is maintained. Cleaning equipment has potent chemicals to kill microscopic organisms that are infectious.
Keeping the place hygiene and fragrant
It's great to keep things clean, but what about keeping them fragrant? Some of the cleaning equipment's are used moisture in comparison to manual cleaning tools such as the mops. It will guarantee that a place will dry up fast. The cleaning substances too are scented. They will not just leave a place clean, but also fragrant and invigorated.
Economical and eco-friendly
Industrial cleaning equipment replaces the cleaning task force that is required to do the work manually. They are also built in such a way that they consume little amounts of energy which is economical. When it comes to the environment, they will not contaminate its essential.
Increase Workplace Productivity
In addition to improving workplace productivity, regular cleaning and maintenance of your industrial tools and equipment can improve production efficiencies by keeping machines in proper working condition.
A clean and healthy surrounding will boost up the concentration and enthusiasm of the workforce. It will also build up confidence and trust of the employees which will motivate them to give their best.
If you are in need of industrial cleaning equipment's you can always find what you need at http://www.eurotek-me.com/
Ceiling tiles are difficult to clean because they are made of a fibrous material with holes in them. Clean ceiling tiles generally last longer, promote healthier air circulation and quality, and better act as a sound buffer and fire retardant. The benefits of keeping ceiling tiles clean are
Enhancing Appearances
If your office is riddled with aging, discolored ceiling tiles, people have probably noticed. From dust and grime to water leaks and UV damage, chances are that your tiles are looking worse for the wear. Providing brighter, cleaner ceiling tires will provide numerous boosts to perceived health levels and productivity.
Better Lighting Effects
The cleaner, brighter appearance of your tiles will benefit the office when it comes to light reflectivity. Sunlight will be more prominent in a treated room, producing a sunny effect that can help promote employee health and productivity.
Better Ventilation
Over time, dust particles can adhere to ceiling tiles by way of air circulation from HVAC systems. A certified cleaning service provider will remove the dust from ducts and other components for improved ventilation.
Stain Removal
Special cleaning solutions are used to remove unsightly stains without damaging the surface of your ceiling. This crucial procedure can help you avoid the cost of tile repainting or replacement.
Improved Workplace Health
The long-term buildup of dirt and grime on your ceiling tiles can also lead to health concerns for anyone inhabiting the space. Pollutants and germs can thrive in soiled, unkempt tiles, creating a host of risks for those that spend large amounts of time working below the issue. This can work in tandem with other environmental risks to bring about sick building syndrome.
Are your ceiling tiles looking and performing at their best? For more details talk to our expert today at www.eurotek-me.com
We involved in manufacturing and supplying an extensive range of vacuum cleaners. These vacuum cleaners are manufactured in compliance with international quality standards and have enhanced vacuum power. Vacuum Cleaners provide a perfect way of cleaning with effective performance.
These vacuum cleaners are ergonomically designed and easy to use. It consumes less power and requires less maintenance. Vacuum Cleaners are tested on various quality parameters to ensure their durability and trouble free performance.
Features of windy 265 PF
WINDY range is the new line of commercial vacuum cleaners suitable for wet and dry applications. WINDY are mainly designed for daily light industrial use and are perfectly suited to the most common demand of cleaning contractors, garages, workshops etc.
These are equipped with the new manual RF filter cleaning system, granting high cleaning efficiency and longer lifespan of the motors. Practical in every situation, the new WINDY range offers accessories holder, cable holder and a new rotating ON/OFF switch, simple and resistant to daily use. Equipped with professional accessories and professional filter, WINDY is the answer to your requests!
Advantages of windy 265 PF
1. Clearing debris, wood shavings or leaves after renovations
2. Cleaning up different spills from a burst pipe to a bath overflow
3. Removing water from a blocked sink
4. Tackling hardwood floors and most kinds of material including
Emptying water mattresses.
A wet and dry vacuum cleaner is similar to a regular vacuum but with the ability to clean both dry and liquid messes. Instead of a vacuum bag, it usually has a two bucket system that separates the solids from liquids. The Windy 265 PF wet and dry vacuum cleaner is a mid-end model from the new Windy vacuum cleaner range.
For more details about Windy 265 IF wet and dry vacuum cleaner,
talk to our professionals at www.eurotek-me.com