SWL900 ST – LAVOR Pro (Walk Behind Sweeper Petrol Operated)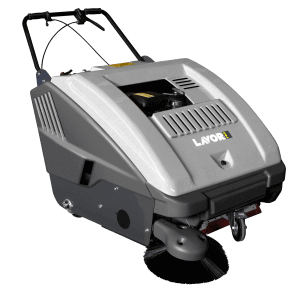 SWL900 ST - LAVOR Pro (walk behind sweeper petrol operated)
SWL 900 ST – Walk behind sweeper Petrol operated
Lavor SWL 900 ST Petrol Engine Powered Walk Behind Floor Sweeper. A Honda 4HP engine powers this industrial floor sweeper machine for total portability, ideal for medium sized floor surfaces in warehouses, outside storage facilities, industrial buildings, large shopping area's or any area that requires mechanical sweeping.
The Lavorpro SWL 900 ST Sweeper has a large brush area than the smaller SWL 700 ST model at 880mm and a larger collection capacity of 60 Ltrs. Other features include, a large surface filter with manual shaker facility to prevent blockages and a pressure regulation system on the main & side brush is fitted for optimum cleaning results.
Ideal for medium and large surfaces.
Manual ?lter shaker (ST model).
Side brush raising control. switch off.
Suction Flap raise system.
Filter Panel in horizontal position.
Main brush pressure regulation.
Indirect back collection.
Quick main brush release.
Long life elastic belts.
Reclining lever handle.
Suction selection.
Traction lever.
Antistatic device.
Wide collector tank.
Heavy duty steel frame.
Side brush mechanical engagement.
SPECIFICATIONS
| | |
| --- | --- |
| Main brush width | 710 mm/27,95 inc |
| Main brush + 1 side brush width | 880 mm/34,64 inc |
| Collector tank/emptying system | 60 lt - 15,85 gal |
| Max working capacity | 3700 m2/h - 39826 ft2 |
| Traction | mechanical |
| Brushes trasmission | elastic belt |
| Pressure on the brushes | adjustable |
| Max Speed | 4Km/hr |
| Motor type / power | Honda 4HP / 2.9kW |
| Filter Shaker | Manual |
| Dimension/weight | 126x83x85 cm/ 97Kg |
---
OVERVIEW

  PAPER PANEL FILTER 14 MICRONS  paper Panel filter 14 micron

    SIDE BRUSHIN PP  PP side broom

  MAIN BRUSH IN PP AND STEM IN MOPLEN, BRISTLE 0, 5 MM  PP and Central brush frame in Moplen, bristle¸ 0, 5 mm
Related Video