A Must Have List of Cleaning Equipments
August 28, 2016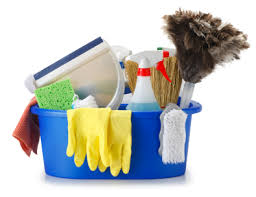 Cleaning up can be a major chore, but doing it the right way for some people gives utmost satisfaction.Which cleaning equipments can be considered important and a must have for cleaning and which can be ignored? There are some basic list of cleaning equipments which we consider as must haves to keep your space spic and span. In this article, we shall discuss about some of the best cleaning equipments to keep around you at all times.
Feather Duster
Feather Duster is a cleaning equipment which has a wide range of uses and is often misunderstood to be a toy. It is mainly used for delicate surface cleaning which removes surface dust. Dusters vary in size but are most often used for residential and industrial cleaning purposes.
Spray Bottle
Spray bottle is a bottle that can spray, squirt or mist fluids. Keep spray bottles on hand if you ever need to rinse something off with water, or like to make your own cleaners. It is also perfect for storing and protecting.
Single Mop Bucket Trolley
Single mop bucket trolley can satisfy any cleaning need and request. It is easy to mop and squeeze dirty water without getting your hands wet or dirty.
Hard Broom
Hard Broom is commonly used with a combination of dustpan. It is ideal for sweeping heavier outdoor dirt and debris on rough and uneven surfaces such as asphalt and concrete. The hard broom has superior quality which enables them to effectively clean the floor and remove the dust.
Microfiber Round Mop
The mop is made with microfiber and is available in color coding for easy identification. It can hold large amount of water within the fibers and allows the mop to clean in larger areas.Microfiber cloths are a great choice for cleaning, dusting, and scrubbing. Instead of disposable mopping pads, pick a good reusable mop and take care of it. Choosing reusable items can save a lot of money.
In case you are looking for the best quality cleaning equipments at the best prices, talk to us at Eurotek Cleaning Equipments LLC today for the best deals in cleaning equipments.